Published on June 14th, 2018
This week gave us 
🇪🇺 
🤝
📌 Political agreement on strengthened Schengen Information System 
👀 
👮‍♀️ 
🔍

📌 Number of MEPs to be reduced after EU elections in 2019 to 705 
⬇️
⚠️ 
🗳

📌EU citizens aged 18 can apply for tickets to travel to up to four European countries under the DiscoverEU initiative 
🚝
🌏
👋

📌EU-wide rules for safety of drones approved by European Parliament 
🎮
🛸 
⚠️

📌The European Parliament, the Council and the Commission hold second round of negotiations on a mandatory Transparency Register 
🕵️
♀️
🤝
🔍
📖

📌New EU rules to enhance availability and fight against antimicrobial resistance 
➗
💊
🐖

📌New target of 32% from renewables by 2030 agreed by MEPs and ministers 
♻️
💚

📌Modernising the existing rules on the provision of audio-visual media services in Europe 
📺
🇪🇺
💻

📌Reception conditions for asylum-seekers agreed between MEPs and Council 
👩
🍳 
💬 🚧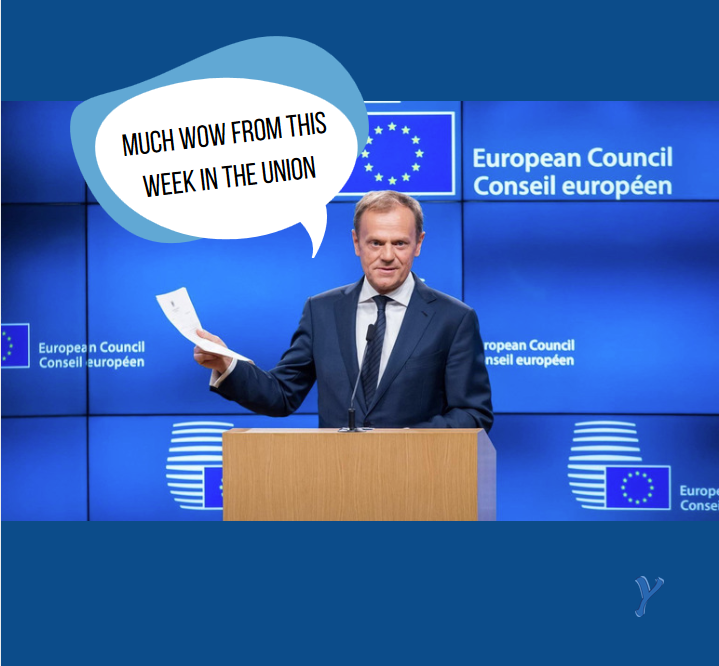 Security Union: political agreement on strengthened Schengen Information System 👀 👮‍♀️ 🔍
➡️ New measures to step up the EU fight against terrorism, cross-border crime and irregular migration got a first green light from EP and Council negotiators.
• New 'alerts' on terrorist threats and children at risk, 'Return' decisions on people illegally staying to be better enforced, and more automatic and efficient information-sharing between member states
🔜 The agreed text now needs to be formally approved by the Civil Liberties Committee, Parliament as a whole and the Council before entering into force.
Number of MEPs to be reduced after EU elections in 2019 to 705 ⬇️⚠️ 🗳
➡️ The European Parliament will shrink from 751 to 705 MEPs when the United Kingdom leaves the EU, leaving room for new countries that may join in the future.
🔜 The new composition of the European Parliament will still require a formal green light from EU leaders at the summit in Brussels on 28-29 June. How many MEPs will your country have in the EP by 2019? Take a look ➡️
http://www.europarl.europa.eu/resources/library/media/20180123RES92302/20180123RES92302.pdf
EU citizens aged 18 can apply for tickets to travel to up to four European countries under the DiscoverEU initiative 🚝🌏👋
➡️DiscoverEU is a new EU initiative based on a proposal from the European Parliament. It offers 18 year olds a travel experience that will enable them to take advantage of the freedom of movement in the European Union, discover the diversity of European regions, enjoy its cultural richness, connect with people from all over the continent and ultimately discover themselves.
EU-wide rules for safety of drones approved by European Parliament 🎮🛸 ⚠️
➡️ MEPs backed new EU-wide rules to ensure the safe use of drones and to update aviation safety rules. Currently most drones fall under differing national rules, which can hamper market development. Under new rules, drones would need to be designed so that they can be operated without putting people at risk.
🔜 The rules now need to be approved by the EU ministers.
The European Parliament, the Council and the Commission hold second round of negotiations on a mandatory Transparency Register 🕵️♀️🤝🔍📖
➡️ The three institutions discussed ways to make their interactions with interest representatives conditional on the registration of such representatives in the Transparency Register. Establishing this principle will provide citizens with more information about who seeks to influence the EU legislative process, allowing them to better scrutinise how EU decision-making works.
🔜 as this is ongoing negotiations, no deadline exist. A meeting with stakeholders is planned for September 2018.
Veterinary medicines: new EU rules to enhance availability and fight against antimicrobial resistance ➗💊🐖
➡️ The agreement paves the way for a new system of rules that will improve the availability of these medicines, enhance competitiveness and innovation in the veterinary pharmaceutical sector and contribute to the fight against antimicrobial resistance (AMR) - the ability of bacteria to render the antibiotics used to treat infections ineffective.
🔜 Now that the agreement has been confirmed by EU ambassadors on behalf of the Council, the regulation will be submitted to the European Parliament for a vote at first reading, and will subsequently go back to the Council for adoption. The new rules will apply at latest in 2022.
Energy: new target of 32% from renewables by 2030 agreed by MEPs and ministers ♻️💚
➡️New EU ambitious targets for renewables, including self-consumption and biofuels, were agreed by Parliament and Council negotiators on Wednesday night.
• 32% EU-wide binding target for renewables by 2030, cleaner transport based on more sustainable biofuels, and new measures to support self-consumers
🔜 The provisional deal now needs the approval of both EU ministers and MEPs. Once this is achieved, the law will enter into force 20 days after the date of publication in the EU's Official Journal. Member states will have to include the new elements of the Directive into national law by 30 June 2021.
Modernising the existing rules on the provision of audiovisual media services in Europe 📺🇪🇺💻
➡️ The new rules will create a level playing field between all operators in protecting viewers, independently from the service they provide and the platform they use. This means that users will get equal protection whether they are watching a film on traditional tv or an on-demand tv. Second, it will increase cultural diversity and promote European content, as providers of on-demand audiovisual media services will have to ensure that at least 30% of their catalogues consist of European content and that this is given adequate prominence. Additional it will guarantee flexibility as member states will be able to adapt the rules to national circumstances and even adopt stricter rules if they so wish
🔜 Now that the agreement has been confirmed by EU ambassadors on behalf of the Council, the directive will be submitted to the European Parliament for a vote at first reading, and subsequently to the Council for adoption.
Reception conditions for asylum-seekers agreed between MEPs and Council 👩🍳 💬 🚧
➡️ Asylum-seekers will get access to the EU labour market more quickly, under an informal deal between EP and EU Ministers, which also foresees strengthened protection for minors.
• Asylum-seekers to be allowed to work 6 months after requesting asylum, instead of current 9 months, no minor to go to prison, detention of children only for family unity or to protect them, language courses from day one, and the MEPs and Council also agreed on the conditions to grant international protection
🔜 The informal deals will only be put to a vote in the Civil Liberties Committee, and subsequently in plenary, once there is confirmed progress towards an agreement on the Dublin Regulation. Member states should reach a common position on this key piece of legislation during the EU leaders' summit on 28-29 June, to allow for negotiations with the Parliament to begin as soon as possible.
🔥 If you want to be updated too we suggest the European Parliament's press service http://www.europarl.europa.eu/news/en/press-room and the European Commission's news roomhttps://europa.eu/newsroom/home_en