#EUNews - Let's talk about what the EU actually does 🔊 a full plenary week indicating that the election period is fast approaching
📌 No more plastic fantastic: Parliament seals ban on throwaway plastics by 2021
📌 The air we breathe: Parliament backs new CO2 emissions limits for cars and vans
📌 EP Plenary: copyrights reform passed
📌 No #FutureofEurope: Slovenian Prime Minister is off the agenda.
📌 Honorary mentions: Presidential elections in Slovakia and Ukraine are held this upcoming weekend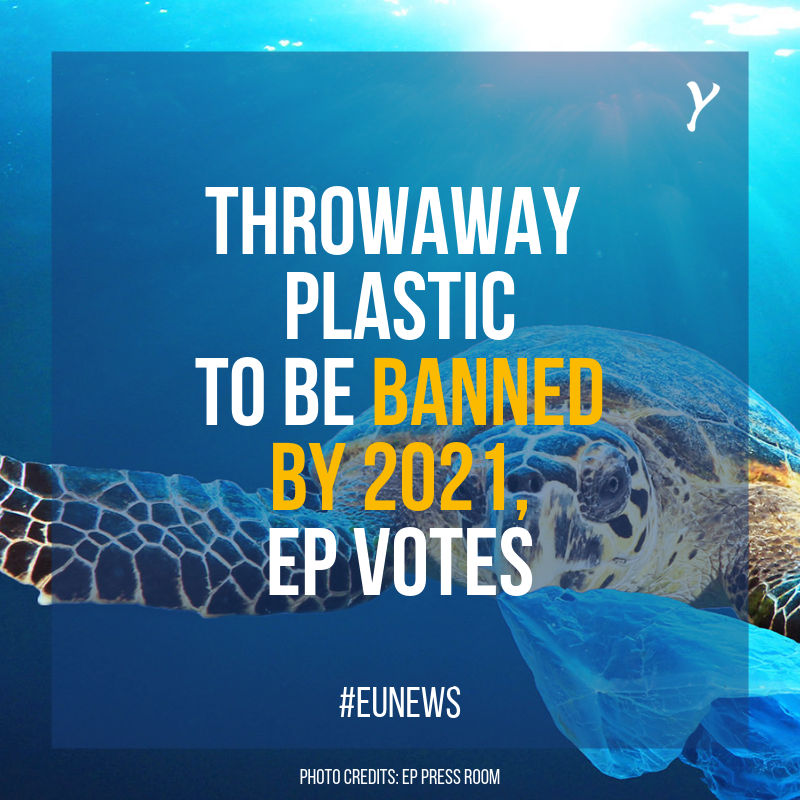 No more plastic fantastic: Parliament seals ban on throwaway plastics by 2021
➡️ The following products will be banned in the EU by 2021:
• Single-use plastic cutlery (forks, knives, spoons and chopsticks)
• Single-use plastic plates
• Plastic straws
• Cotton bud sticks made of plastic
• Plastic balloon sticks
• Oxo-degradable plastics and food containers and expanded polystyrene cups
🔜 Member states will have to achieve a 90% collection target for plastic bottles by 2029, and plastic bottles will have to contain at least 25% of recycled content by 2025 and 30% by 2030.
The air we breathe: Parliament backs new CO2 emissions limits for cars and vans
➡️ MEPs and EU ministers have agreed on a higher target (37.5%) to reduce EU fleet-wide emissions for new cars by 2030, compared to the European Commission's proposed target (30%). The legislation also sets a CO2 reduction target for new vans (31%) by 2030.
🔜 Transport is the only sector in the EU that did not record any significant decline in greenhouse gas (GHG) emissions since 1990. Figures from the European Environment Agency show that of all means of transport in the EU, road transport generates the largest share of greenhouse gas emissions (72.9 % in 2016), and is responsible for around 20% of the EU's total GHG emissions.
EP Plenary: copyrights reform passed
➡️ The exercise of copyright and related rights applicable to certain online transmissions and retransmissions of television and radio programmes was voted upon this week. MEPs in Strasbourg adopted the directive by 348 votes in favour to 274. The controversial article 13 (now article 17) will require all online platforms (with some exceptions) to be held responsible for the content they publish, enforcing the development of some "content filters".
No #FutureofEurope: Slovenian Prime Minister is off the agenda.
➡️ The Prime Minister of Slovenia was announced to be debating the Future of Europe this week. Though Miro Cerar was listed, he must have missed his date with MEPs this week - probably because he is not the PM anymore! Very sorry for the mixup from our side. Regardless of what the official reasons are, there was no debate on the future of Europe we could discuss.
🔜 For the last plenary in April, Stefan Löfven, prime minister of Sweden will visit the EP.
Honorary mentions: Presidential elections in Slovakia and Ukraine are held this upcoming weekend
🔜 On Saturday the 2019 Slovak presidential election will be held, followed by the Ukrainian presidential election on Sunday. If you want to know what this means for Europe and the respective countries, call a friend from those countries and have a transnational exchange on the matter. Just to put 'Europe' into perspective.
🔥 If you want to be updated, too, we suggest the European Parliament's press service www.europarl.europa.eu/news/en/press-room and the European Commission's newsroom www.europa.eu/newsroom/home_en