Many don't feel close to the traditional politics, but they do care about topics they feel passionate about like sustainability, mobility, Erasmus, inclusion and equality.
Despite this, barely 28% of the young voters took part in the European Parliament elections 2014 – making them the elections with the lowest youth participation ever! May 2019 it's coming and it's time to take action and make sure the EU goes where we want – because we are the future!
Who we are
The Y Vote project strives to inform the young people in Europe in order to equip them with the needed knowledge and to encourage them to be engaged in the democratic process in the future. We are therefore motivated to increase the participation and youth engagement in Europe and wants to increase the youth people understanding of the EU, tackle mistrust and apathy amongst the citizens through peer-to-peer education by online and offline means.
Sounds like a lot? Let's phrase it this way: "We are a bunch of young volunteers that think young people need a better education about the EU and things around it."
What we do
With some great programmers and an research assistant, developed an app to tackle one of the main problems in the European Parliament elections: "How to vote?"
We ask you two questions, and tell you immediately how you can cast your vote.
Could it be any easier? Accessible from pretty any device with an internet connection, we hope to bring knowledge about the most basic democratic tool back to the people.
We aim at reaching at least 50.000 people with the app alone, but at the same time, we need to meet people face-to-face to develop, empower and involve them to vote in May 2019.
Why we need your help
Making an app and researching electoral laws takes time. While it's great when people put their free time in projects, we believe in fair payment.
With your contribution, we can pay our developers, our research assistant, as well as costs for the server and licenses we need.
Check out our Crowdfunding Campaign!
And here's some amazing perks for supporting us that you can't live without
Of course, we want to thank you for your contribution! We have shirts, hoodies, notebooks and more for you!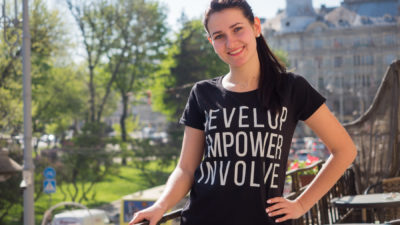 10€ A personal postcard
10€ "Some call it Europe, we call it home" Notebook (30 available)
15€ AEGEE "Drink tap" bottle (10 available)
15€ One DEVELOP.EMPOWER.INVOLVE. shirt
15€ One "Some call it Europe, we call it home" T-Shirt (40 available)
30€ One "Some call it Europe, we call it home" Hoodie (60 available)
Combine two perks and get 5€ off! Shirt and hoodie sizes depending on availability.